How do I insert videos, images or audio?
For embedding videos or audio click on the following icon:

YouTube videos
Just copy the YouTube-path (can be found on YouTube under the "Share" link) into the field "File/URL". Every other field will automatically be filled in.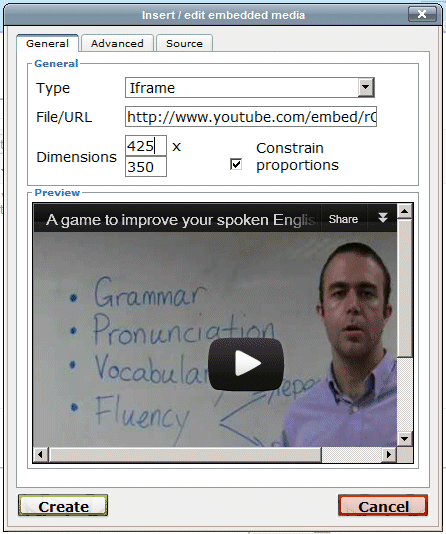 Audio
For mp3-files choose the type "audio". Click on the upload icon

next to the File/URL field.
A new window will open. Click on "Add media" and then "Start upload". Already uploaded files can be selected under the tab "Browse Media".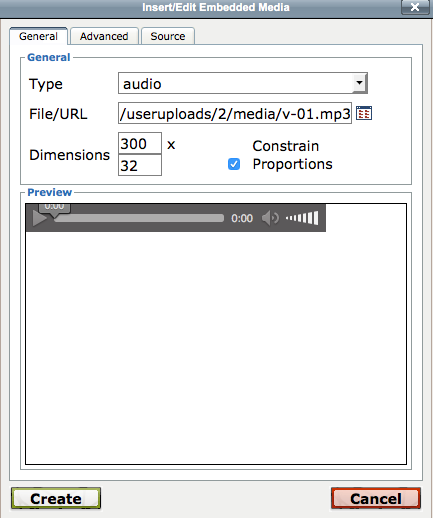 Files on Google Drive
In order to embed audio files uploaded to Google Drive, go to the Google Drive website where the file is stored, then click on the 3 dots on the top right.
Click on "Share" and under "Get link", change the permissions so that anyone with the link can view it. Then click on "Copy link".

Paste the link in a new tab and then click on the 3 dots again. This time you will see the menu item "Embed item...".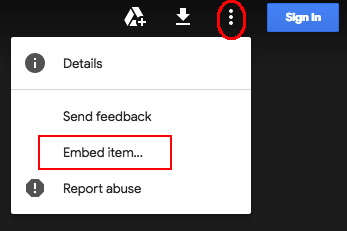 Copy the code that is presented (Select it and press Ctrl+C). Back in Learnclick, click on the multimedia icon and then on the "Source" tab paste the code.
Change the height and width to something smaller (eg. 300x50).

Make sure your students have updated to the latest browser version.
Files on Dropbox
In your file explorer, right-click on the mp3-file and then on "Copy Dropbox Link". After you paste the link into the "File/URL" field, you need to change the end of the link from "?dl=0" to "?dl=1". However, you have to be aware that Dropbox files don't play in the Safari browser due to a Safari bug. Therefore we don't recommend linking mp3 files on Dropbox.
Images
For images you click on the image icon. You can upload an image or link to an external image. See also
How to insert an image into your quiz
.
More Help